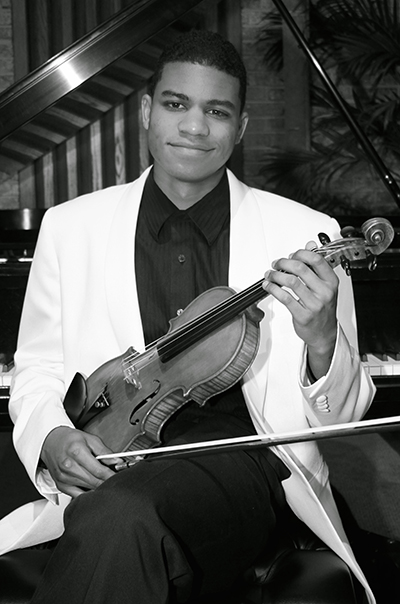 Brendon Elliott has been described as an accomplished performer "who plays with substantial sound and a lovely feeling of warmth, with a not especially youthful self-possession" by the Richmond Times Dispatch. The Charleston Post and Courier described his solo performance with the Colours of Music Virtuosi as; "Playing with grace and poise, displaying a fine technique and sweet tone."

Virginia Native, Brendon Elliott is a graduate of the prestigious Curtis Institute and a graduate student at The Juilliard School. His Curtis teachers have been Pamela Frank, and the late Joseph Silverstein. He currently studies with Sylvia Rosenberg. He began his violin studies under his mother's tutelage at the age of three.
Brendon made his debut as a soloist when he was 10 years old, performing a concerto with the Hampton University Orchestra. Since then, he has won many solo competitions and has been a soloist with several professional and community orchestras. Brendon is a two-time alumni of NPR's From the Top, a nationally syndicated radio broadcast featuring America's talented young musicians. He toured with the Virginia Symphony performing the Hailstork Violin Concerto, and performing alongside the legendary Natalie Cole. Brendon's stunning performance of William Grant Still's Mother and Child was broadcast on WMRA radio. Brendon has also enjoyed the honor of performing the National Anthem for a Washington Nationals Baseball game two times during the 2011/2012 season, Brendon was a guest soloist with the Virginia Symphony Orchestra for five special Young Peoples Concerts, "Songs for a Dreamer" concert, and an 9/11 Memorial Concert. As a three-time concerto competition winner, he was also a guest soloist with the Richmond Symphony Orchestra on their masterworks series.  He also performed during a special concert with the New York Philharmonic. In 2015, Brendon performed in national tour with the Sphinx Virtuosi Ensemble, which included a stunning performance at Carnegie Hall.
Brendon was a three-time semifinalist in the National Sphinx Competition; earning the National Sphinx Competition Achievement Award in 2012. He was also a National Finalist in the American String Teacher's Association National Solo Competition.  Brendon's orchestral experience includes serving as concertmaster of the Peninsula Youth Orchestra for six consecutive years, concertmaster for Virginia's Southeastern Regional Orchestra, concertmaster for the Virginia All State Orchestra, as well as concertmaster for the Menchville High School Orchestra.
Brendon's summer music study have included two years at The Aspen Music Festival and The Heifetz International Music Festival, The Eastern Music Festival, , The Sarasota Music Festival, and The Chautauqua Music Festival, and the Tanglewood Music Festival.
Brendon enjoyed a role in the feature-length film documentary The Brigetower where he portrayed the young adult version of the Afro-European child violin prodigy George Bridgetower, who had a friendship with Beethoven.
Brendon's family is also very musical; he is the first violinist in his family's ensemble, The Elliott Family String Quartet, and has traveled extensively performing with the ensemble.  Brendon plays on violin Opus 731, made by Douglas Cox, violinmaker in Brattleborro, Vermont.