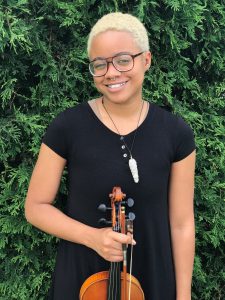 Justine Elliott began her violin studies at the tender age of two. She was accepted to her first youth orchestra, at the age of seven, where she was the youngest member for several years. She later went on to serve as concert-mistress of that orchestra as well as for the advanced group, the Peninsula Youth Orchestra (PYO), where she held the position of assistant concertmaster for four years and concertmaster for two years. She also enjoyed the privilege of performing with the 2nd annual Colours of Music Festival orchestra in Charleston, South Carolina.
Justine performed the Saint Saens Violin Concerto, in January 2015, for a special MLK celebration with the Virginia Symphony Orchestra. In January 2014, she received an honorable mention for her performance of the Mendelssohn Violin Concerto in the Richmond Symphony Concerto Competition. She went on to win the Grand Prize in the First Presbyterian Young Artist Competition in March 2014 and was also been named a finalist in the Hilton Head Concerto Competition in February 2014. Some of her past accomplishments have been; first place winner in the 2013 Edustar Academy Talent Competition, 2nd Place Winner in 1-Vision Entertainment Rising Stars Talent Competition, 1st Place Winner in the Omega Psi Phi Zeta Iota Chapter Talent Hunt, and 2012 YWCA Young Teen of Distinction Award. She has also won several concerto competitions resulting in orchestral solo appearances such as with the York River Symphony Concerto (YRSO) and the Peninsula Youth Orchestra. She appeared on the local news several times with her siblings and family quartet. Justine is also the second violinist for her family's ensemble; The Elliott Family Quartet and the first violinist for The Elliott Family String Trio.
Justine has been awarded full scholarships to attend the National Sphinx Performance Academy located at the well-known Oberlin Conservatory of Music in Ohio, for three consecutive years. She has also been awarded scholarships to attend the Wintergreen Summer Music Academy the Eastern Music Festival.
In spite of Justine's intense musical commitments and study, Justine a scholarly student evident by her membership of the National Honor Society as well as her AP Scholar with Distinction Award in August 2014. Justine volunteered her time mentoring young students and giving private lessons. As a recipient of the YWCA Young Teen of Distinction Award, Justine was acknowledged for her outstanding contributions to the Virginia Peninsula community through professional activities and volunteerism. Justine is currently a scholarship student at Ithaca College in Ithaca, New York where she will graduate in May 2018 with a Bachelor of Science in Culture and Communications.