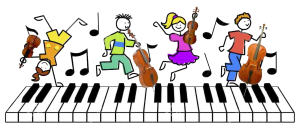 Payments
Lesson fees are treated as a monthly tuition and are due at the first lesson of each month.  Although fees are based upon a per lesson charge, they should not be considered as such, but are a reflection of the enrollment in a continual program.  Regardless of the number of lessons you receive in a month, the fee always remains the same.  Fees are generally not subject to adjustments because of  absenteeism.
The monthy fee is calculated by adding up the costs of all private lessons, group lessons, plus the cost of 3 recitals per year.  To keep costs low, the cost of all these activities for the school year are added up and divided by 10 monthly payments (September thru June).  There is usally only one scheduled event in June (the Spring recital), even though a full months tuition is still due. Lessons are not generally taught in June.  Summer lesssons are taught in July and August.
During summer months, fees vary based upon the number of lessons each person signs up for during the July and August.  Monthly tuition for summer lessons are calculated by adding up lesson fees and dividing them by 2 months. Click here for the Summer Lesson Policies.
Arrival
Please plan to arrive a few minutes before your lesson. When you arrive, park in the driveway or in front of mailbox 207 (whichever is available).  Do not block others in unless someone will stay in the vehicle to move it.  When you arrive, please remove your shoes and leave them on the rugs, then wait in the foyer area until your lesson.  If the door is open, there is no need to ring the doorbell.   All children are expected to wash their hands and use the restroom before their lesson.  Students who are late cannot be guaranteed a full lesson.
Cancellations
During the academic year, there is a strict attendance policy and students are required to be present at their reserved time, make up lessons are unlikely.   During the summer months tuition is more flexible and is based upon the individuals personal schedule for that summer.  If you know ahead of time that you will miss a lesson, it is your obligation to contact another student and switch lesson times.  A list of students' lesson times and phone numbers will be made available to all parents.
If you must miss a private lesson, call or email as soon as possible before the scheduled lesson time to cancel.  Please leave a message if I am unavailable to answer the phone.  Students who missed 2 or more lessons without notifying the teacher will result in losing their slot to the next person on the waiting list.
Refunds
Refunds are made for excused absences only.  Refunds are not given for lessons casually missed. Excused absences are the following;Illness, death in family, injuries, or other extenuating circumstances to be determined by the teacher.  Examples of unexcused absences are; out-of-town guests, picnics, church socials, birthday parties, etc.  These are NOT valid reasons for an excused absence.
When a student has an excused absence, a credit for that missed lesson will be applied towards the next payment.
Group Lessons
Attendance at group lessons is required.  Group lessons are an essensial part of the Suzuki Method.  Students who miss group lessons do not received the full benefit of the Suzuki experience.  Group lessons will neither be refunded nor made up, unless otherwise instructed.
Teacher Cancellations/Snow Days
Lessons canceled by the teacher for any reason will be rescheduled or credit will be given towards the next month's tuition. You will be notified of any cancellations due to the weather.
Parental Involvement
For students under 12 years old, a parent or guardian is expected to attend every lesson and supervise daily practice. I welcome discussion about your child's progress at the beginning of your child's lesson or by phone.