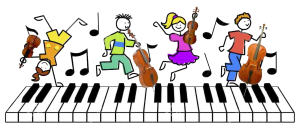 For Parents of Young Students:
Giving your child music lessons is a never-ending gift. Through the study of music children not only experience the joy of expressing themselves musically, but they develop essential life skills such as patience, concentration, confidence, the ability to set and achieve goals, a willingness to explore, performance skills, self-awareness, perseverance, self-discipline, and independence. Most importantly, by learning how to play an instrument, children learn how to learn.
In order to gain a deeper understanding of the Suzuki approach, I highly recommend that before beginning lessons all parents read Dr. Suzuki's book  Nurtured by Love.  Another book I recommend for parents interested in music instruction—whether Suzuki or traditional—is Cynthia Richard's How to Make  Your Child Practice . . . Without Resorting to Violence.   It is an insightful, informative, and light-hearted book addressing an issue that most every parent struggles with at one point or another. Another important resource is the website for the Suzuki Association of Americas.
For Adult Students:
The benefits of learning the violin as an adult are numerous. Studying a musical instrument is a challenging, fulfilling, and refreshing pastime. It allows you to deepen your understanding and appreciation of music and provides you with a skill to enjoy throughout your life. In addition, there are few experiences more valuable than that of becoming a beginner again.
The primary goal of music is to communicate. Therefore, during lessons we will work on developing the tools to express yourself through music. I place great importance on helping students set up a solid technical foundation, as technique is what allows us to communicate freely. In addition to developing your technique, we will work on reading music, understanding the fundamentals of music theory, and creating an awareness of tone, pitch, and rhythm. As most of a student's learning takes place outside of lessons, I believe it is also essential to teach my students how to practice effectively.
Tips for Parents:
Attend all classes outlined in the schedule

Maintain the instrument in good condition at all times

Do not interfere with the lesson, but take notes and record each lesson

Organize home practice and set daily time aside for that purpose

Follow through on all assignments given by the teacher, including practicing the instrument, overseeing specific assignments, etc.

Play the Suzuki CD daily.  The rate of progress is directly correlated to the amount of listening to the CD.

Do not try to instruct a new concept – unless the teacher has shown you how.  Incorrect learning is hard to undo!

Do not wait until your child's lesson is over to bring up a point of discussion.  Either discuss your thoughts at the beginning of your lesson, or call me. Be considerate of those who are waiting for their lessons.

Siblings are welcome, but they are not to be let loose!  They must sit or play quietly without distracting.  You should consider bringing something for them to do such as coloring or playing with a quiet toy.