INSTRUCTIONS using CODE EMBED PLUGIN: This page is for setting the embed code only (Code is set under Custom Field below). Use HTML5 on MacBook to create code and newsletter.
Here's how easy it is…
Once you have the plugin installed start a new post or page.
In the Custom Fields meta box enter a name of CODE1 and your embed code as the value. Save this.
In your post add   where you wish the embed code to appear.
When making a change, be sure to click "update" for the Custom Field.
When previewing page, may need to refresh to see the newsletters.
Can only use this Code in one page at a time or get errors.
And that's it – when the post or page is viewed   will be replaced with the code that you asked to be embedded.
If you cannot find the location of the Custom Fields meta box on your post editor screen, please see the FAQ section for more information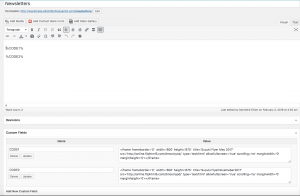 This should get you started – for more information and advanced options please read the "Other Notes" tab. Alternatively, there's a fantastic guide at Elftronix which I would recommend.
Although this plugin works for both posts and pages for simplicity I will simply refer to posts – bear in mind that pages work in the same way.
See this page for more info: https://wordpress.org/plugins/simple-embed-code/
BEST SIZE IS 800 X 875 or 800 x 575